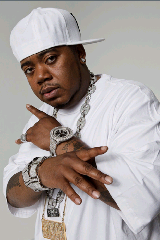 Last night "Stoney's On The Strip" had the roof blown off the building with the extraordinary talent that came out to perform. The crowd was hyped, and the anxious fans could not wait to see their favorite artist perform. I had a chance to speak to several of the concert goers and get their take on which artist they came out to see. Of course, there were a mixture of people who came out to see Twista, and then there were those who could not wait until Young Dro made his appearance on stage. Although Twista, in my eyes, was the main event of the show, I have to admit that the locals did the damn thang! One local artist by the name of " Mr. Finley" rocked his segment of the show, with his fans rapping every lyric that came out of Finley's mouth, he brought the energy and set the stage ablaze with his magical performance! Pay close attention to this man, because if you blink too long..he will have already made it to the top with rockets blaring from his ass! The night was young and the crowd was hyped and eagerly waiting for Young Dro to take his position on stage. Young Dro came out ready to give the audience just what they came to see, a great performance, rapping his song "Ain't I" featuring T.I, as well as " "Shoulder lean." All in all Young Dro put on a excellent show.
Now it was time for the main event, Twista! The party goers seemed to be getting impatient with anticipation, and then finally, what we had been waiting for.
Twista came out on stage twisting his lyrics in knots, around the screaming crowd! As he blurted out the lyrics "make you a celebrity over night" it seemed as if every woman that had been standing in front of the stage, all wanted a piece a of him, all standing there with their hands and arms extended, waiting for him to grab their hand! Twista brought the heat to sin city with his dynamic performance.
I had a chance to speak with TWISTA in a one on one exclusive interview and I got a chance to ask him a few questions that I know his fans wanted answers to..
I asked Twista, in his opinion how he felt about the stigma behind rap artist and the industry? " I feel that it's discouraging for the children that has wanted a taste of the industry, they don't want our children on the streets selling drugs now, they want to erase the only hope they have left"
When asking him about how he felt about Crazy Bone going solo. He had this to say "growth is a good thing, and he needed to move on in order to grow, as for him going solo, people want consistency, Man! People don't wanna hear solo Bone, you know what it is!"
Your right Twist, people want our artist to remain one way all the time, and when they abruptly stop being the artists that we once knew and loved.. that's when your fans stop listening! Point blank!
Great performance by all who came out and performed local and non-local!
http://kewellsink.com